Motel Industry Update – September 2019
The Value of Guest Reviews
As traditional star ratings are on the decline, potential guests are now relying more on online reviews to choose a Motel for their next stay. This is a concept that may hoteliers still struggle with, as there is always a potential for someone to leave a bad review and the potential impact this may have on future guests. As much as we would like to receive positive reviews all the time, receiving a bad review is not always a negative. Even a bad review comes with a positive, as it gives you an opportunity to improve your Motel services and experience for future guests.
Given that your guests have taken the time and effort to write a review, it is important to respond to their reviews, both good and bad. Responding to a good review, allows a guest to feel valued as a customer, while responding to a bad review may provide compensation for their experience. It also provides clarification to future guests that you are addressing the issues rather than ignoring them. Reviews can also help identify tends and patterns over time and allows you to assess people's reactions to changes or improvements you have made. You can identify improvements that are valued by your guests by the reviews that they provide and other services that have gone un-noticed.
Motel Leases
Lease are always a tricky part of the motel industry and often determine the value of your business. As a general rule, your lease value declines in line with the number of years remaining on the lease term.
An original lease term may have declined from 25 to 18 years and is never really a concern, until you want to sell your business. When potential buyers are looking to purchase a Motel, a shorter lease term can often deter the buyer and the Tennant may need to negotiate extra terms with the landlord to provide a new lease term of 25 years.
Negotiating the lease term is usually a cost incurred by the vendor and can be seen as the price you pay to secure a buyer. The landlord however has the opportunity to seek reimbursement for an extension of the lease. This cost becomes a capital purchase by the vendor, however it can be converted to an expense to preserve your lease term overtime, in a cost-effective manner. At Plus 1 we have experience in these structures and can provide advice on ways to minimise your tax liability, while securing a way to retain your lease term.
Open Hours
Monday to Friday
8:00am to 5:00pm
Closed Public Holidays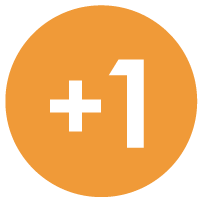 If you need to get us documents quickly, access remote support, or the MYOB Portal click the button above.