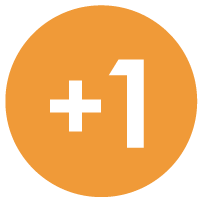 Since 1991, Plus 1 Group has been helping businesses thrive
We understand how daunting business accounting can seem, which is why we do everything we can to make the experience effortless, efficient and, above all, easy.
Our team of highly experienced accountants, business consultants, financing and tax specialists take the time to get to know you and your business, so that we can offer truly personalised help. With our benchmarking, cash flow forecasting, and other handy tools, we outline every possible outcome and keep you informed every step of the way.
At Plus 1 Group, our wealth of expertise leads to smart strategies and informed decisions. As your business grows in todays rapidly changing business environment, we're by your side to guide you towards a secure and strong financial future.
BEN SNOW
DIRECTOR
One of the first people to join the Plus 1 team, Ben has been with the Group since 1997. And with his outstanding depth of knowledge in business structuring, investments and superannuation, it shows. Beyond this knowledge, he's also a registered ASIC Superannuation Auditor.
For Ben, relationships come first. He puts in the time to ensure he clearly understands his clients' broader life goals and works hard to create strong and long-term partnerships. That's what allows him to create truly bespoke solutions for his clients.
Highly involved in his local community, Ben is active on a number of local community committee's and groups.
MATT O'BRYAN
DIRECTOR
A longtime team member of Plus 1, Matt joined the Group in 1997. Now a director of both Plus 1 Accountants and Wealth Advisors, there's nothing he enjoys more than knowing he has helped his clients and their businesses grow and thrive.
A skilful problem solver with a future-facing mindset, Matt provides expert strategic advice, particularly around wealth creation and retirement planning. He takes the time to get to know his clients and their businesses, ensuring each of his solutions are bespoke and are of the utmost value.
Outside of work Matt spends his free moments enjoying quality time with his family.
DEVINDER SINGH
DIRECTOR
Devinder first joined the Plus 1 team in 2007. Today, more than a decade of experience has provided him with a rare depth of knowledge when it comes to effective financial management advice for clients ­­– particularly in the transport and primary production sectors.
Devinder provides all his clients with highly personalised attention, cutting to the core of what they really need. Building on this knowledge, and strong client relationship, he offers solutions that properly address each issue and will secure financial growth now and into the future.
Outside of Plus 1, Devinder is a sports lover and also an active member within his local Indian community.
KAREN (KAMALJIT) PARHAAR
DIRECTOR
Experience. Efficiency. Flexibility. Positivity. These are Karen's trademark qualities. It makes sense that she's earned herself such an esteemed reputation; she's been with Plus 1 since 1995. Now, at the top of her game, Karen works closely with each and every client until their expectations are exceeded and financial futures are secured with utmost satisfaction.
And nothing makes her happier than seeing the positive effect this has on their businesses and lives.
Karen is known around the office as somewhat of a Yoda. A mentor to the more fresh-faced employees, she gently guides others in the intricacies of finance and client-relationships.
"It gives me a real sense of satisfaction to see my clients happy with the results; it confirms that the service I provided to them was valuable."
Jacinta Young
Associate
Jacinta is a cheerful energy around the office. She's always willing to lend a hand, help with problem solving, and provide perspective on the bigger picture. She started with Plus 1 in 2005 and was impressed by the scope of the firm and the resources it provided but what made her stay was the emphasis Plus 1 has on a great team environment and strong client relationships
Jacinta's at her professional best when she's helping people make business decisions. She's personable and reliable, making her the first point of call for her clients. She takes on every task from start to finish, and always delivers incredible outcomes.
Ranvir Singh Minhas
Associate
A rational problem solver with an incredible ability to think outside the box, Ranvir is highly skilled at analysing and identifying solutions for business finance, debt restructure and overall performance.
To Ranvir, no challenge is too big or complex. Armed with his positive attitude and over a decade of experience at Plus 1 Group, Ranvir delivers strategies, advice and outcomes that help his clients' businesses grow and thrive, again and again.
Vanessa Lo Piccolo
Associate
Need a hand with Taxation, Business Advice or Retirement Planning? Then head straight to Vanessa. No matter the industry, no matter the topic, she possesses the knowledge and solution for each and every client.
With over a decade of experience at Plus 1, Vanessa enjoys her work most when she's helping clients achieve their goals, providing them with personalised financial solutions and a secure financial future. Around the office she can also be found coaching the rest of her team to excel for their clients.
Toby Goodwin
Associate
Toby is a 'can-do' man. He enjoys his work the most when he's finding bespoke solutions for clients – particularly around taxation and the GST. For Toby, the bigger the problem to solve, the better, and it's this attitude that makes him such an invaluable member of our team.
A member of Plus 1 Group's PPSA Group, Toby is Xero certified and believes in the importance of cloud software to bring value to his forward-thinking clients.
Jacqui Pell
Associate
Jacqui has a natural brain for numbers. She knows exactly how to take complicated information and distill it in a way that her clients can easily understand. Since joining the Plus 1 team more than a decade ago, she has become the go-to person when it comes to finding simple solutions for complex problems.
An excellent communicator and big picture thinker, Jacqui thrives when she's helping people achieve their future financial goals. Nothing brings her more enjoyment than knowing she has created positive outcomes for her clients, and has made their day better.
Billy Bagley
Associate
We welcomed Billy to the team in 2012 as a fresh faced 18-year-old who had nothing but enthusiasm and ambition.
That enthusiasm has stood Billy's clients in good stead, and as a qualified Accountant, he continues to deliver tailored solutions and fantastic results.
Billy's speciality is his intricate knowledge of the fuel rebate scheme, transport award and understanding the mechanics of the Transport Industry in general, which allows him to give clients the edge they need.
Courtney Poole
Associate
From the moment Courtney joined us as a cadet in 2014, her energetic, passionate, and driven nature has been evident. Professionalism for Courtney extends beyond just knowledge; it's about immersing herself in clients' businesses, confronting challenges side-by-side, and celebrating successes together, which has rooted her deeply into the Plus 1 family. Courtney has an inherent love for challenges, and specialises in financial analysis, benchmarking, and budgeting within the transport industry.
Cheyenne Jose
Associate
Cheyenne embarked on her journey with Plus 1 Group in 2010, as a cadet accountant.
Over the years, her unwavering love and passion for the transport industry, coupled with her financial analysis skills, have made her a valuable asset to our firm. With a knack for accounting software implementation, Cheyenne goes the extra mile to provide our clients with the essential tools for financial success while placing a strong emphasis on fostering client relationships and collaborative strategies.
Kelly Jeffers
Consultant
Kelly is an expert at adding value to businesses. No matter your financial situation, she's here to help you prosper. Kelly is particularly adept at thinking outside the box to find solutions that ensure you're financially in the best position possible.
Since 2006, Kelly has been dedicated to helping all who walk through her door, particularly when it comes to taxation, superannuation and tax planning. Within the office, she also helps run management and the development of other staff.
Kerry Tomlinson
Senior Consultant
Kerry is Plus 1 Group's longest serving member. The genuine love she has for her clients, and the great feeling she gets from improving their businesses and lives, is what has kept her at Plus 1 all these years.
Whether you're in the midst of a major problem or just looking to see if your business has any room for financial improvement, Kerry and her team have the expertise and in-depth knowledge to help out. Specialising in taxation, superannuation and business management, they'll solve the issue and add real value.
Rod McElroy
Financial Planning Consultant
Rod is a born learner and teacher. He loves interacting face-to-face with staff and clients, and he gets a real buzz from helping others understand technical and complex issues.
Though Rod is highly mathematical, he believes in a relationship-based approach to financial advice. It makes his day seeing people refer their friends and colleagues to the financial planning business as a result of the care he brings to helping clients meet their objectives.
If you need to get us documents quickly, access remote support, or the MYOB Portal click the button above.
Open Hours
Monday to Friday
8:00am to 5:00pm
Closed Public Holidays
Sentinel Wealth Unit Trust T/As Plus 1 Wealth Advisors (ABN:11 408 695 672) is an Authorised Representative of Sentinel Wealth Managers Pty Ltd
(ABN: 73 108 328 294) AFS Licence 322211 | Financial Services Guide