Grant News – January 2021

Commercial Tenancy Relief Scheme Extended
The Commercial Tenancy Relief Scheme has been extended until 28 March 2021. The Scheme was introduced to relieve financial hardship faced by tenants and landlords as a result of coronavirus (COVID-19).
Small business tenants seeking rent relief from 1 January 2021 to 28 March 2021 will need to apply to their landlord in writing, with evidence of their eligibility as soon as possible, as a landlord is only required to provide rent relief from the date of application.
For further information about the scheme and for free mediation services for commercial tenants and landlords please refer to the official website.
Small Business Digital Adaption Vouchers
The Small Business Digital Adaptation Program gives businesses the opportunity to trial and subscribe to digital products, tools, and training that can use to build digital capability in their day-to-day operations.
Software available through this program includes websites, e-commerce, and financial tools as well as free digital adaptation training and workshops.
Rebates of $1,200 can be accessed to cover 12 months subscriptions and are available through Business Victoria.
Victorian Government QR Code Service
Victorian Government has released a free QR code service available to all Victorian businesses and venues.
The service provides an effective record keeping system for contact tracing in the event a positive case of coronavirus (COVID-19) is identified. There are no ongoing costs for businesses, venues, or visitors who implement the software or check-in using this service.
To register your business for the QR service please visit the Victorian Government website
Regional Travel Vouchers Round 2
Round 2 of the Regional Travel Vouchers will be released on the 20th January 2021 to encourage Victorians to experience everything regional Victoria has to offer.
The Regional Travel Voucher Scheme provides Victorians with a $200 voucher to spend on accommodation, tourism attractions, or tours in regional Victoria, the Yarra Ranges, and the Mornington Peninsula, when they spend $400 or more on any of these activities.
Registrations for round 2 open at 10 am on 20 January 2021 and will be available until the 15th April 2021 or until funds are fully exhausted.
Visit the Victorian Government website for more information.
Apply for a Grant or looking more information?
Click the link below to contact us at Plus 1.
Open Hours
Monday to Friday
8:00am to 5:00pm
Closed Public Holidays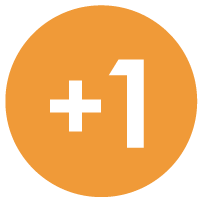 If you need to get us documents quickly, access remote support, or the MYOB Portal click the button above.