Available Grants – July 2020
Businesses within metropolitan Melbourne and Mitchell Shire that are affected by the return to Stay at Home restrictions may be eligible for a one-off, $5,000 grant under the Business Support Fund – Expansion program.
To be eligible you must meet the below criteria:
operate a business located in metropolitan Melbourne or Mitchell Shire
be a participant in the Commonwealth Government's JobKeeper Payment scheme
employ people
be registered with WorkSafe on 30 June 2020
have an annual payroll of less than $3 million in 2019-20 on an ungrouped basis
be registered for Goods and Services Tax (GST) as at 30 June 2020
hold an Australian Business Number (ABN) and have held that ABN at 30 June 2020
be registered with the responsible Federal or State regulator.
Applications for the grant close on 19th August 2020 and includes the following areas;
Banyule
Hume
Moreland
Bayside
Kingston
Mornington Peninsula
Boroondara
Knox
Nillumbik
Brimbank
Manningham
Port Phillip
Cardinia
Maribyrnong
Stonnington
Casey
Maroondah
Whitehorse
Darebin
Melbourne
Whittlesea
Frankston
Melton
Wyndham
Glen Eira
Monash
Yarra
Greater Dandenong
Moonee Valley
Yarra Ranges
Hobsons Bay
Mitchel Shire
Closing Date: 16th August 2020
Funding Available: Between $500 to $3,000
The Objective of the Grant:
This grant helps small businesses meet the costs of safely reopening or up-scaling operations. These expenses include, but are not limited to:
Fit-out changes and temporary physical changes (for example, plastic barriers at checkouts)
Staff training and counselling
Business advice and continuity planning
Cleaning products and additional cleaning services
Additional equipment necessary to comply with social distancing or other public health measures
Marketing, communications and advertising
Digital solutions (for example, e-commerce or business websites).
This grant can only be used for purchases of eligible expenses made from 1 July 2020, and only where no other government support is available.
Closing Date: When the funding runs out
Funding Available: Between $2,000 to $10,000
The Objective of the Grant:
The objective of this program is to support small businesses subject to closure or highly impacted by the coronavirus (COVID-19) shutdown restrictions announced by the Queensland Government, to adapt and sustain their operations, and build resilience.
The program aims to see small and micro businesses:
Prepare for the safe resumption of trading in the post COVID-19 recovery
Continue to meet operating costs
Access digital technologies to rebuild business operations and transition to a new way of doing business
Respond to online opportunities, where possible, to sustain employment and maintain potential for longer-term growth
Upskill and reskill business owners and staff to benefit from new technologies or business models
Embrace business diversification to adapt and sustain operations
Create or retain employment.
The Energy Efficient Communities Program will assist businesses and community organisations to reduce greenhouse gas emission, improve energy efficiency practices and technologies and better manage energy
Funding Available: Between $5,000 to $20,000
The closing date: 17th August 2020
Timeframe: Applicants will have18 months to complete the project after grant approval.
Grant Objective:
Replacing existing equipment with higher efficiency equipment
Installing or replacing a component to help an existing system run more efficiently (for example installing solar pre-heating for a hot water system, installing a variable speed drive on a vacuum pump, installing heat recovery from milk cooling equipment to pre-heat hot water, installing remote monitoring equipment for water storage or pasture condition)
Energy audits
Investment feasibility studies for energy efficiency upgrades
Monitoring of energy consumption and emissions.
Carry out on-farm energy audits
Eligible Expenditures:
An energy audit of your site or part of your site
Costs related to feasibility studies
Purchase or hire of equipment to measure, monitor and record energy use
Purchase of equipment to replace existing equipment, where the new equipment is higher efficiency, and costs to decommission, remove and dispose of the old equipment item
Purchase of equipment or components to help an existing system run more efficiently
Design, and reasonable installation costs of eligible equipment
Commissioning or tuning of equipment installed or modified as part of the project, and any related equipment that is affected by the project
Building permits or approval costs to install equipment, where required.
Need more help or information?
Click the link below to contact us at Plus 1.
Open Hours
Monday to Friday
8:00am to 5:00pm
Closed Public Holidays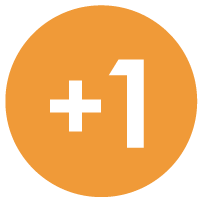 If you need to get us documents quickly, access remote support, or the MYOB Portal click the button above.