It is easy to overlook the importance of just a 1% increase in the return that we receive from an investment. This is especially the case if we have a relatively small investment that is inaccessible for a number of years.
These amounts can be, for example, superannuation for a young person or an investment for our young grandchildren for when they reach adulthood.
The following table illustrates how just a 1% increase in return can make a significant difference to the end result.
As advisers, we often come across investors who have some smaller amounts of money that are not readily accessible and because there is no urgency, they have not taken action to make the investment as effective as it can be.
As the above table illustrates, if you do not have an appropriate investment strategy, over time, that 1% that you miss out on today can add up to be very SIGNIFICANT tomorrow.
Open Hours
Monday to Friday
8:00am to 5:00pm
Closed Public Holidays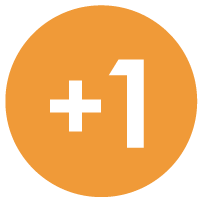 If you need to get us documents quickly, access remote support, or the MYOB Portal click the button above.
Sentinel Wealth Unit Trust T/As Plus 1 Wealth Advisors (ABN:11 408 695 672) is an Authorised Representative of Sentinel Wealth Managers Pty Ltd
(ABN: 73 108 328 294) AFS Licence 322211 | Financial Services Guide