Recent Federal Court Decision: Personal Leave Accrual
On 21 August 2019, the Full Federal Court of Australia handed down a decision in Mondelez Australia Pty Ltd v AMWU [2019] FCAFC 138. The decision deals with the method of accruing and taking paid personal/carer's leave for the purposes of the National Employment Standards under the Fair Work Act 2009.
The FWO is reviewing and updating its advice in light of this decision. Although the decision may be appealed to the High Court if any special leave application is made and granted, the Full Federal Court's decision reflects the current state of the law. The majority of the Full Federal Court has determined:
Full-time and part-time employees are entitled to 10 working days of paid personal/carer's leave for each year of employment.
The leave protects those employees' income when they are entitled to be absent from work due to illness or injury (or providing care or support to a family or household member who is ill, injured or suffering from an unexpected emergency).
The leave must be calculated in working days, not hours. A working day is the portion of a 24 hour period that an employee would otherwise be working.
An employee's entitlement is expressly based upon time working for the employer and is expressly calculated in days. For example, every 5.2 weeks, an employee accrues an entitlement to another full day of leave.
For every day of personal/carer's leave taken, an employer deducts a day from the employee's accrued leave balance. If an employee takes a part-day of leave, then an equivalent part-day is deducted from the employee's accrued leave balance.
Read the Federal Court of Australia's decision in Mondelez Australia Pty Ltd v AMWU [2019] FCAFC 138.
Source: Fairwork.gov.au
Our Human Resources consulting team at Plus 1 is available to help our clients understand these changes. Please call us on 5833 3000 or email at hr@plus1group.com.au
Open Hours
Monday to Friday
8:00am to 5:00pm
Closed Public Holidays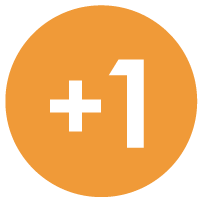 If you need to get us documents quickly, access remote support, or the MYOB Portal click the button above.