Further Time To Enrol
The government has extended the time to enrol for the initial JobKeeper payments from 30 April 2020 to 31 May 2020 for Employers.
If you enrol by the 31st May, you will still be able to claim for the two fortnights in April, provided you meet the eligibility criteria and have paid the minimum $1,500 per fortnight by the 8th of May.
Providing that you and your employees meet the eligibility requirements for the JobKeeper Payment, you can start the first stage of the application NOW!
Step 1:
Notify your eligible employees that you are intending to claim the JobKeeper payment on their behalf and check they aren't claiming the JobKeeper payment through another employer and haven't nominated through another business.
Step 2:
Send the JobKeeper Employee Nomination notice to your nominated employees to complete and return to you by the end of May, if you plan to claim the JobKeeper payment for April. Keep it on file and provide a copy to your registered tax agent if you are using one.
Step 3:
Continue to pay at least $1,500 to each eligible employee per JobKeeper fortnight (the first JobKeeper fortnight is the period from 30 March to 12 April).
From 20 April 2020 you can enrol with the ATO for the JobKeeper payments, using the Business Portal and authenticate with myGovID or via your Tax Agent. You must do this by the end of May to claim JobKeeper payments for April.
For more information please refer to the link.
Need more help or information?
Click the link below to contact us at Plus 1.
Open Hours
Monday to Friday
8:00am to 5:00pm
Closed Public Holidays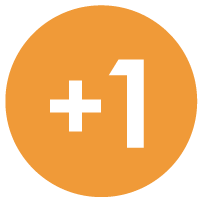 If you need to get us documents quickly, access remote support, or the MYOB Portal click the button above.