Market Insights

8th April 2019
Market and Exchange Rates
Major Market Announcements
U.S. stocks rose on Friday, boosted by better-than-expected job growth in March, which eased concerns of an economic slowdown that have periodically roiled financial markets over the past year.
The Morrison government has lost ground with voters after pledging a sweeping round of personal income tax cuts, with the Coalition trailing Labor by 47 to 53 per cent in two-party terms in the wake of the federal budget. Prime Minister Scott Morrison has maintained his lead on key personal approval ratings but the government has fallen from the two-party result of 49 to 51 per cent in February.
As many as 200 jobs are expected to be lost from BHP's Perth office as part of a round of more than 700 redundancies across the mining giant's operations nationally. BHP would not reveal how many jobs were expected to go but it is believed the job cuts apply to white collar functions such as human resources, finance and technology.
National Australia Bank is in discussions with two Israeli artificial intelligence and biometrics groups about ways to further the bank's big data capabilities and to protect customers from emerging types of financial crime. NAB is mulling a relationship with the biometrics specialist group to further develop the ways it identifies suspect behaviour by cyber criminals, and it has already run a pilot program with the group that is yet to be revealed.
The Australian sharemarket has slumped lower for a second straight day, leaving it flat for the week.
The benchmark S&P/ASX200 index closed down 51.5 points, or 0.83 per cent, to 6,181.3 points at 1615 AEDT on Friday, while the broader All Ordinaries was down 49.8 points, or 0.79 per cent, to 6,270.6.
Every sector was in the red, with tech stocks the hardest-hit, down 1.56 per cent.
The sell-off left the market up less than a point higher than where it began on Monday.
"I think we've had a couple of breather days" following seven straight days of gains, Blue Ocean Equities analyst Mathan Somasundaram said.
"The market is pretty much on hold for the [US-China] trade deal," Mr Somasundaram said. "Most people are sitting out."
US President Donald Trump said on Friday (Australia time) that the US had found agreement on some of the toughest issues in its trade talks with China, but sticking points remained.
Mr Somasundaram said that if a deal did not come within four weeks, as Mr Trump promised, the market could panic.
Mr Somasundaram added that the markets were adjusting to the fact that the global economy would be stuck with low interest rates for a while, making it tough for banks to make money.
All of Australia's big four banks were in the red, with NAB down 1.43 per cent to $24.81, ANZ down 1.18 per cent to $25.95, Westpac down 0.69 per cent to $26.05 and Commonwealth down 0.48 per cent to $70.89.
But buy-now, pay-later companies Afterpay Touch and Zip Co both hit all-time highs following reports earlier in the week that Australian retail sales had bounced back in February.
Zip was up 5.67 per cent to $2.05 while Afterpay gained 3.83 per cent to $24.40.
There was also good news for Automotive Holdings Group shareholders, with the stock jumping 20.79 per cent to $2.15 after vehicle retailer AP Eagers announced an all-stock offer for the company.
AP Eagers gained 5.63 per cent to $7.69.
Telecom stocks and the miners were down the least, both collectively less than 0.2 per cent.
Mining giant BHP lost 0.51 per cent to $29.22 while Rio Tinto gained 0.28 per cent to $99.91.
Fortescue Metals was up 1.04 per cent to $7.78 after Moody's Investors Service said the approval of its Iron Bridge magnetite iron ore project south of Port Hedland, WA, would create near-term risks but long-term benefits and left its bond rating unchanged.
Gold miners posted gains after a rise in the price of the yellow metal overnight.
Newcrest Mining was up 0.12 per cent to $24.63, Northern Star added 0.93 per cent at $8.68 and Evolution Mining gained 1.4 per cent to $3.62.
Telco Telstra was down 0.3 per cent to $3.27, while pharma giant CSL was down 1.19 per cent to $196.88.
The Aussie dollar is buying 71.25 US cents, from 71.16 US cents on Thursday.
Looking head, investors will be watching the release of US non-farm payroll numbers late on Friday night (AEDT) to see how the world's largest economy is doing, Mr Somasundaram said.
Federal Budget for 2019 – 2020
Our commentary here will mainly be restricted to matters of Financial Planning issues with few changes flagged in this budget. Off to side though we still have some 76 recommendations from the Royal Commission which will instigate some changes over the next few years.
BIG PICTURE
The Government forecast budget for 2019/2020 is: 
Expected Revenues – $513Billion
Expected Expenses – $501Billion 
Thus, leaving an expected surplus of $12Billion next financial year.
Comment – Good to have a projected surplus for a change. Whilst at times it can be healthy for the country to have a yearly deficit to support a struggling economy Australia's ONGOING TOTAL GOVERNMENT DEBT remains a concern. The government has said they expect this to be down to $NIL by 2030 (total government debt was over $500Billion in recent years). This is very ambitious having regard to each years forward estimates.
PERSONAL INCOME TAX RATES
It is expected that most average Australians (couples and singles) will receive some tax relief in their 30 June 2019 tax return by of a tax offset. Please see the tables attached to determine where you fit on the scale. Most singles will receive $1,080 offset and couples possibly $2,160 depending on breakup of their taxable incomes.
Comment – For those that are "doing it tough" in managing their living expenses then the tax relief may well be spent on making things easier at home. Sometimes when we receive a tax break or salary increase if we can convince ourselves we did not really need it then perhaps making extra home loan payments of just $20 per week (say the $1,080 per annum) or the equivalent pre-tax contribution (depending on your age and individual circumstances) into superannuation might be a good idea for long term wealth creation rather than just consuming the extra $20 per week.
Home loan – Result over 25 years of just $20 per week (using a conservative average long-term home loan rate of 5%) would be saving of $23,000 in interest payments and 2 years of the term of the home loan). Remember small fish are sweet.
Extra Superannuation Contributions – Result over 25 years of just $20 per week into pre-tax superannuation contributions (using an average long-term diversified fund earning rate of say 7% per annum) then you would be accumulating an extra $83,000 in superannuation assets. Again, small fish are sweet and compounding works.
SUPERANNUATION
NO WORK TEST FOR VOLUNTARY CONTRIBUTIONS BY PEOPLE AGED UP TO 66 – Superannuation contribution rules will change to allow people aged 65 and 66 to make voluntary contributions to superannuation without meeting the work test.
Comment – Plenty of more opportunity for individuals planning to sell an investment property later in life and place into the superannuation system. Similarly, inheritances and/or ordinary investments can be placed into superannuation for perhaps better retirement income outcomes.
BRING-FORWARD RULE EXTENDED TO PEOPLE UP TO 66
Again, superannuation contribution rules to change to allow people aged under 67 to make three years' worth of after-tax (non-concessional) contributions in a single year. Under current contribution caps, that would enable under-67-year-olds to contribute up to $300,000 in one year.
Comment – Again, creates opportunity to dump large amounts (subject to some maximum allowable rules) into superannuation up to age 67 – working or not.
SPOUSE CONTRIBUTIONS EXTENDED TO PEOPLE AGED UP TO 74
Under the proposed changes, individuals will be able to contribute to their spouse's superannuation where the receiving spouse is under age 75. In addition, if the receiving spouse is aged 65 or 66, they will no longer need to meet a work test. The work test will continue to apply if the receiving spouse is aged 67 or over.
Comment – Not significant due to levels but can make some difference to overall retirement income results. 
SMALL and MEDIUM BUSINESS TAX CONCESSIONS
The instant asset write-off threshold from $25,000 to $30,000 this financial year and next financial year. This is done on a per asset basis and therefore businesses can write off multiple assets.
Comment – If the asset is definitely needed for the business then effectively a $30,000 purchase after budget night to 30 June 2020 will prove very tax effective rather than the normally depreciated (over many years) items. 
WHAT DOES THIS ALL MEAN FOR SHARE MARKETS
Budgets and elections can have short term ramifications to share markets. However, it has been proven over and over again that long term investment in solid companies paying good dividends always shone through given time for our investments to work in the markets.
At Plus 1 Group, we are happy to talk to persons contemplating a review of their financial planning needs, looking at strategies and alternatives and their investments generally.
All Ordinaries (XAO) 5 Day Chart
Disclaimer: The advice provided is general advice only. It has been prepared without taking into account your objectives, financial situation or needs. Before acting on this advice you should consider the appropriateness of the advice, having regard to your own objectives, financial situation and needs. Where quoted, past performance is not indicative of future performance.
Open Hours
Monday to Friday
8:00am to 5:00pm
Closed Public Holidays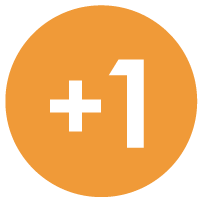 If you need to get us documents quickly, access remote support, or the MYOB Portal click the button above.